I have been yawning all day. I'm starting to realize that this travel schedule is wreaking habit on my sleep schedule (yes, even despite second sleep, which doesn't work now that I've switched to nonstop flights and need to spend the single flight preparing for the workday). On Mondays, I have to be up at 4:30am to get to Dallas by 9:30am (for the record, that does not include a workout), and then on Thursdays I get home at 12:30am (technically, that's Friday) on my return flight… assuming it's not delayed. Yikes!
But this weekend, most of my friends are heading home for Easter – which gives me a little bit of a break. I love my friends, especially some of the new ones I've made in the last 6 months or so, but in wanting to see them as much as possible on the weekends, I'm constantly running around trying to see everyone – and I don't get a chance to catch up on sleep. Generally, I get home on Thursdays after a long week of work, and I think, "yay, now I have the weekend to catch up." But the past two weekends, I've been going nonstop that I end up boarding the plane on Monday gulping and realizing I now have four more intense days of work to get through before I can even start to catch up. Not good!
For Easter, my mom usually comes to visit – we go to church, go to brunch, and enjoy each other's company. This year, though, she's coming next weekend for the More Half Marathon. In case you missed it, she has been following my beginner's half marathon training plan in order to run the More as her very first half marathon! I can't believe how well she's done and I can't wait to finish the race side by side with her. However, with that race set for next weekend, we decided it didn't make sense for her to come to NYC two weekends in a row. Instead, I'm on my own – and I am trying my best to keep tomorrow as open as possible! Sleeping till 10am? Yes, please!
In the meantime, though, I have a date tonight – so I needed to find a way to get pumped up (and not yawning). I did have a cafe au lait this morning (I don't drink regular coffee every day, so that should have provided the boost I needed… but sadly, it did not do the trick. As the day dragged on and I continued to want to just crawl into bed and close my eyes, I realized the one thing I hadn't yet done today: work out. (I usually work out first thing in the morning on Fridays, but today I had skipped it in favor of extra sleep).
I know this is old news, but many studies have shown that exercise boosts energy levels. In that particular study, people who exercised regularly had more energy than those who didn't, but there is also plenty of evidence to show that lifting weights / doing cardio will get your heart pumping and your blood flowing – making you feel awake than if you had just sat around and kept your eyes open. (Of course, a nap / getting more sleep is the best cure of all, but sometimes you just don't have time for that).
So I hit up the gym for my "C" day of my pullup routine. "C" day is still kicking my grip's ass (apparently my hands are really weak even though my arms are strong!), which is why I'm finding it a bit hard to type right now. But lo and behold, I feel a thousand times more awake than I did before I went to the gym! Presto, change – I'm ready for my date! Well, after I shower and change out of my sweaty gym clothes…
TGIF!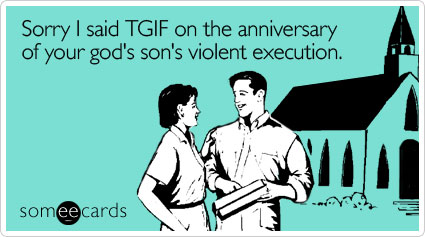 Credit: Someecards